New York is among the most pest-infested cities in the United States, with about 15% of residents reporting rat infestations and 16% complaining about roaches in 2015. Due to these high numbers, pest control has become a major concern in the city, with most tenants wondering who is responsible for pest control: the tenant or the landlord.
According to New York State Local Law 55 of 2018, also known as the Indoor Allergen Hazards Law, landlords are required to keep their tenants' units free of pests and mold. In short, landlords are also responsible for pest control.
Failure to fix pest problems in the tenant's unit and common area is a Class C violation of Local Law 55 of 2018, and the landlords are given 21 days to correct the violation.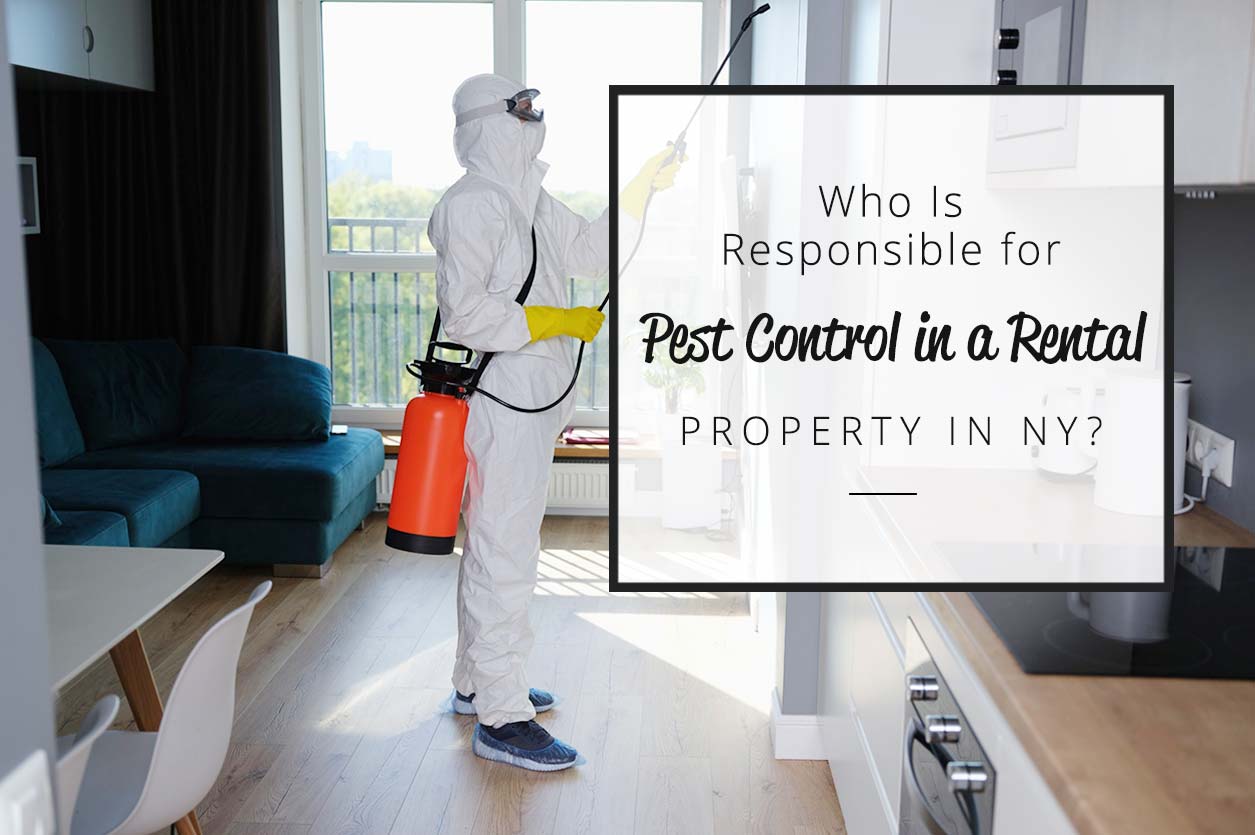 According to Title 27 – Chapter 2 Housing Maintenance Code of New York, owners of residential dwellings must ensure the premises are pest-free. Landlords should also fix conditions causing pest problems. This means that the landlord should practice Integrated Pest Management (IPM), like fixing leaks and sealing cracks.
Landlords should also carry out pest inspections and pay for pest extermination when necessary before new tenants arrive.
Here are the landlord's responsibilities according to New York State laws.
Annually inspect the rental units for indoor allergen hazards like roaches, mice, rats, and mold.
Respond to complaints from tenants or the Department of Housing Preservation and Development (HPD).
Thoroughly clean vacant units and ensure there are no pests or mold before the arrival of new tenants.
Provide tenants with a copy of the Local Law 55 fact sheet, as well as a lease agreement notice that clearly outlines the property owner's or landlord's responsibilities in keeping the apartment free of indoor allergens like pests and mold.
Remediate the infestation using Integrated Pest Management (IPM) practices.
What is Integrated Pest Management (IPM)?
The EPA defines IPM as an effective and eco-friendly approach to pest management. IPM aims to find the best approach to mitigate and remediate pest problems while protecting the environment and humans. Here are some of the IPMs in New York:
Removing pest nests and using a HEPA vacuum to clean pest wastes and other debris thoroughly. Also, prevent the dust from spreading when cleaning the surfaces and collecting and discarding the debris.
Eliminate all passages and entry points for bugs by repairing and sealing any gaps, holes, or cracks in the apartment using durable materials like sealants, cement, plaster, escutcheon plates, or wood.
Eliminate all water sources for pests by repairing faucets, drains, or other plumbing materials that leak or collect water.
Attach exterior door sweeps to all doors leading to basements, hallways, or the outside.
Applying pesticides sparingly. The application of pesticides should only be done by a pest professional with a valid New York State Department of Environmental Conservation (DEC) license.
All property owners are also required to safely remove indoor mold and correct the conditions that cause the mold. Safe work practices include:
Get rid of any standing water and repair leaks and moisture issues.
Move furniture and other household items from the work area or cover them with plastic sheeting before you start cleaning.
Limit the dust from spreading by sealing openings like doorways and ventilation ducts or spraying water and soap on the moldy areas before cleaning.
Use water and soap or mild detergents to clean the moldy areas. Make sure you dry the area completely.
Clean dusty areas using HEPA vacuums or wet mops.
Remove and discard all materials that cannot be properly cleaned.
Securely seal and discard all debris and cleaning-related materials in heavy-duty plastic bags.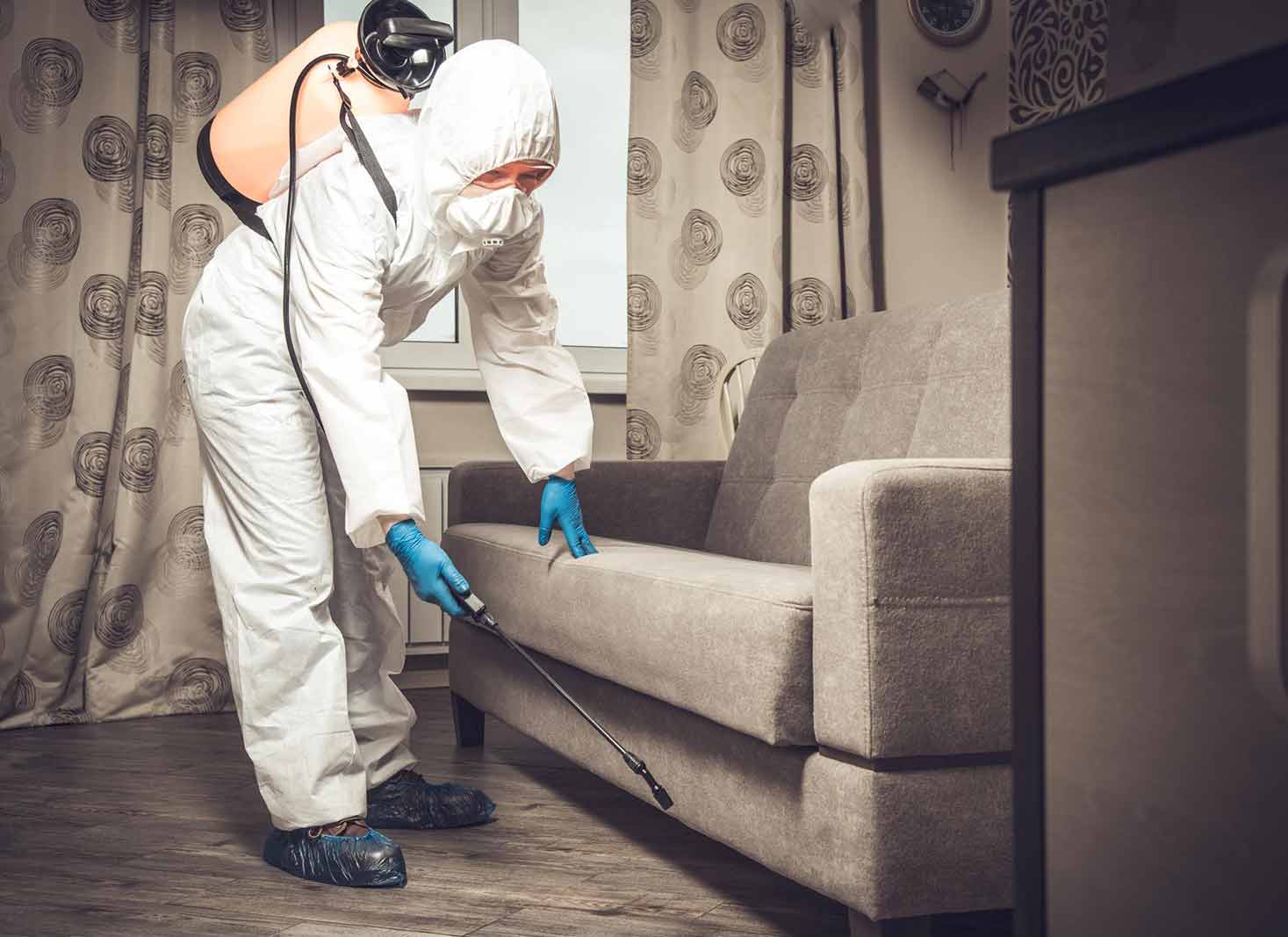 Tenant's responsibilities regarding pest control?
While landlords are held responsible for pest control in rental units, tenants also have a role to play.
Keep the home clean and dry.
Keep food in clean, sealed containers; keep sinks and countertops clean; and remove clutter such as paper bags and newspapers.
Use waste bins with snug-fitting lids.
Take out the trash and recycle daily. Tie up the garbage bags before taking them out of your apartment.
Do not use pesticides or chemicals that have strong odors.
Inform landlords or building superintendents immediately if there are pests, leaks, cracks, or holes in the apartment.
Allow building staff into your unit to make the necessary repairs.
If the landlords or supers fail to fix the problem or are handling the repairs unsafely, call 311 or file a complaint online.
Also, if there are pests and mold in your home and your child has asthma, your physician can request a free home environmental inspection on your behalf through the online registry of the NYC Health Department.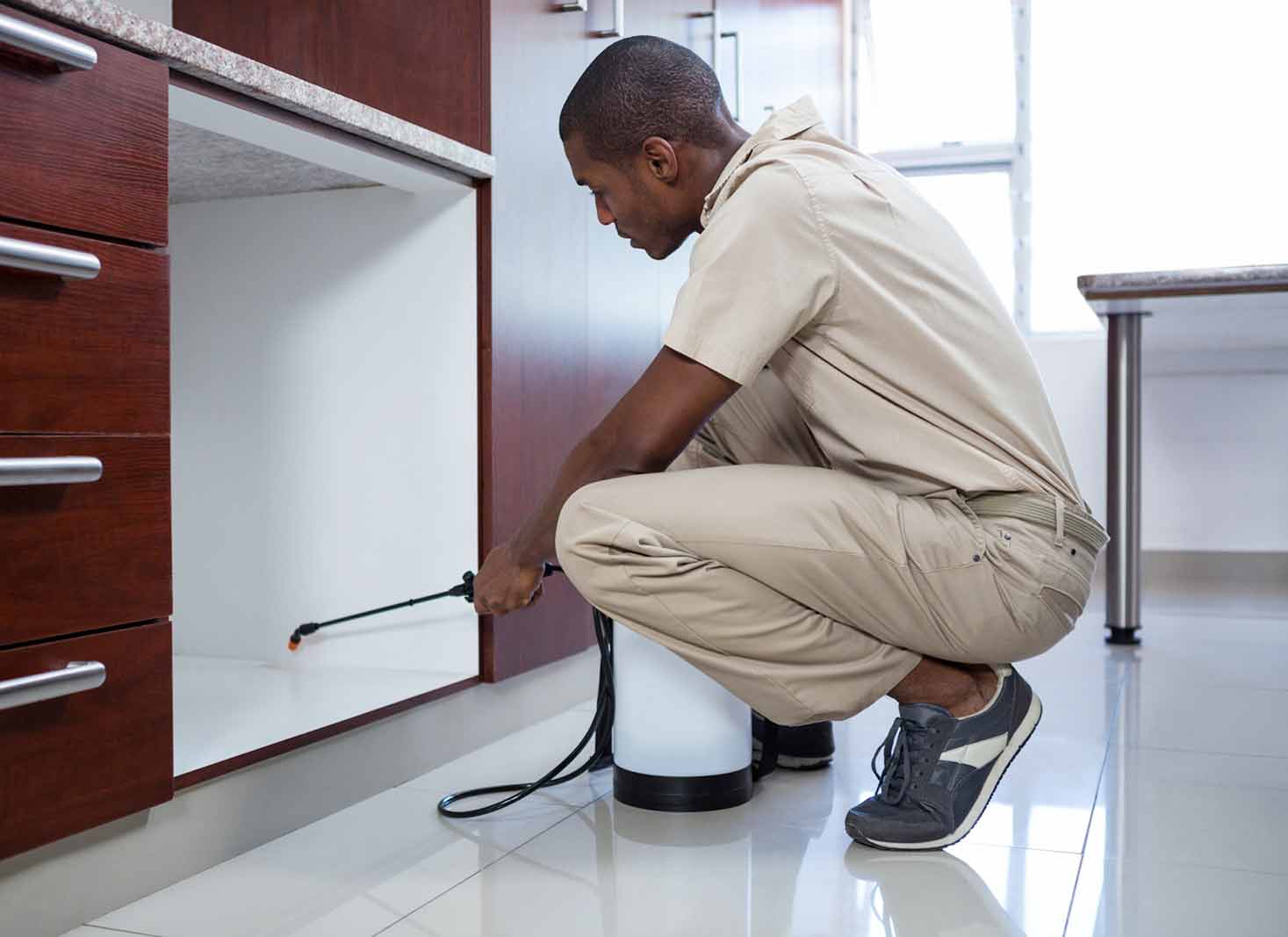 Can tenants sue their landlords if they refuse to fulfill their pest control obligations?
Yes, tenants can sue their landlords or building supers if they fail to address the pest problem in their apartments.
Before you file a complaint against your landlord, managing agent, or building superintendent, try working out the problem first. If you live in a co-op building or condo, report the issue to the owner or management board.
If the landlord does not solve the issue, you can file the complaint online or directly call 311. HPD will then send an inspector to evaluate the complaint.
If HPD ascertains that there is a pest infestation in your home, they will immediately send a notice to your landlord to correct the violation. Depending on the severity of the problem and the duration of the case, you may decide to:
Withhold your rent until the issue is resolved.
Hire a pest control company and deduct the cost from your next month's rent.
Break your lease
However, ensure you have legal counsel to guide you throughout the process.
How long does a landlord have to fix a pest problem in NY?
This depends on the severity of the problem:
90 days for Class A violation
30 days for Class B violation (all other pests apart from rats, roaches, and mice).
21 days for Class C violation (cockroaches, mice, rats in the apartment and common areas).
What if I own a condo or live in a co-op apartment building?
If you own a condominium or live in a co-op building, you are technically your own landlord. This means you are responsible for resolving any pest issues at your own expense.
However, if your apartment has a housing board, it is the board's responsibility to keep the building and common areas free from pests and mold. Tenants should therefore inform the housing board or management company in case of a pest infestation. The board will then take the necessary steps to mitigate and remediate the problem.
Can I terminate my lease due to pest problems in NY?
Yes, you can terminate your rental lease if the property owner does not fix pest problems in your home.
However, before breaking the lease, you should contact and notify your landlord about the pest problem and give them ample time to fix the issue. If your landlord does not correct the problem even after being notified multiple times, you can go ahead and terminate your lease because the pests pose a health hazard to you and your loved ones.
However, you must have written proof that you informed the landlord about the issue and gave them enough time to fix it.
What about the "repair and deduct'' option?
If you do not want to break your lease and the pest problem persists, you can file a complaint against your landlord online or by calling 311.
You can also consider exterminating the pests, making all the necessary repairs, and then deducting the costs from your rent for the following month.
However, you must have written proof about the severity of the problem and that you informed your landlord multiple times before you decided to do the repairs yourself. Also, you must have all the sales receipts from the pest control company as proof that the job was done.
Who is responsible for bed bug treatment in a rental property in NY?
It is the responsibility of the landlord to handle a bed bug inspection and treatment. The landlord should hire a licensed pest management company to eliminate bed bugs.
The NYC Department of Housing Preservation and Development counts bed bugs as a Class B violation, and landlords have 30 days to correct the violation.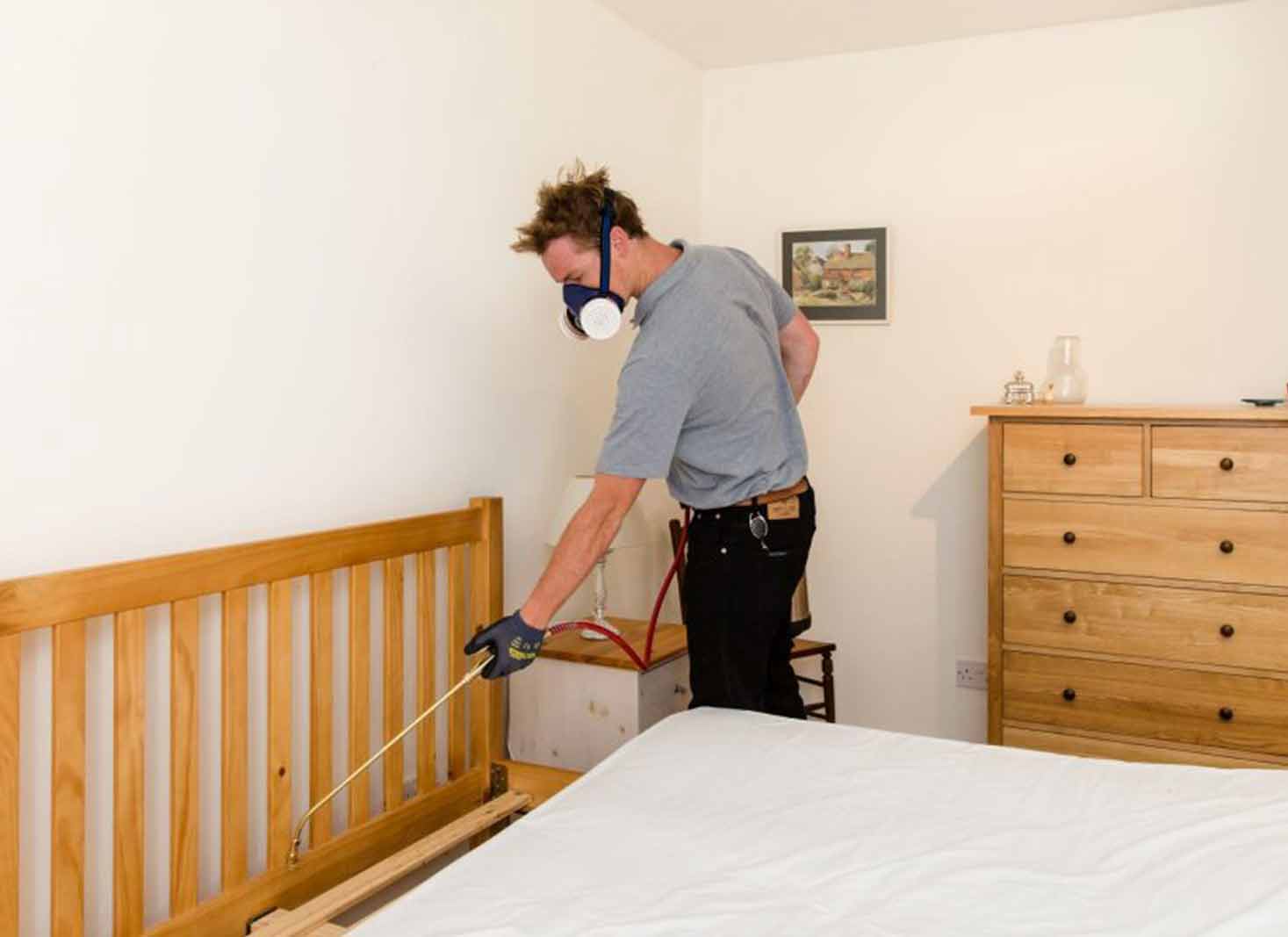 Can landlords use DIY pest control methods or are they required to call licensed professionals?
The Environmental Conservation Law requires that only a certified pest control professional should use pesticides to remediate a pest problem.
Therefore, landlords and property owners have to hire pest control experts licensed by the New York State Department of Environmental Conservation to apply pesticides to a tenant's apartment.
However, as long as harmful chemicals and pesticides are not used, landlords are not required to hire professionals. So landlords can use DIY methods to solve the issue, provided the methods they use are safe and effective.
How often are landlords required to perform pest inspections?
Annually. According to Local Law 55 of 2018, landlords and property owners should perform annual inspections to ensure that their tenants' units are pest-free and mold-free.