According to the NYC Department of Health and Mental Hygiene, there are more than 1,000 pest control companies and thousands of licensed pest professionals in the area of New York City. So how do you select a great exterminator from this offer, knowing that not all of them are of the same quality and professionalism?
When selecting an exterminator don't let the price be your guide. Look for quality and value. Also, ask questions and try to find out more about the company. Experience from previous homeowners can be crucial when making the final decision.
In this article, I will try to give you some advice on selecting a great exterminator in NY.
When infestations occur, take your time and do your homework. It is normal to want your problem to disappear immediately, but it doesn't work that way. Of course, this applies to issues that allow you to think and select a competent and good company. My advice for you is to obtain as many estimates as possible since most exterminators will provide you with free estimates.
The following are some of the general questions that you have to ask possible exterminators.
Question #1: Experience DOES matter
How long the exterminator company has been in the business will tell you about the company's experience in the field. It may be cruel and unfair, but avoid companies with less than 5 years of experience. Read reviews, if possible, from local residents so you get a bigger picture of how the company performed and grew since its beginning.
If the exterminator has been in the business for a long time, especially if it is a local company from your area, you will easily find reviews and past clients to hear their opinion. The more knowledgeable the exterminator is about local pests the more trustworthy they can be. If each of their extermination methods is guaranteed, and their procedures are tried and tested you can be relaxed.
Question #2: Are you insured and certified?
As inappropriate as this question may sound, you absolve yourself of any liability associated with any injuries and mistakes of the exterminator during the process. By law in NYC a pro exterminator needs to be licensed and insured. Accidental slips and falls cannot be prevented by the experience, so an insured exterminator must be your choice. That way you will not be responsible for any medical bills that may arise.
In fact, New York State businesses are required to have liability and worker's compensation insurance that protects both themselves and their clients from fiscal repercussions of on-the-job injuries. Also, the insurance proves the exterminator's legitimacy.
Another important thing here is how much insurance the extermination company carries. If the insurance is under one million then it is usually an amateur and low-quality extermination company.
Question #3: Are your chemicals safe?
Another important thing. Environmentally friendly pesticides protect people and animals from unwanted and poisonous side effects of traditional pesticides while guaranteeing the eradication of pests.
We all know that traditional pesticides cause damage to harmless animals and it is possible to get into the water and poison your food, carpets, and furniture. With these pesticides, you will be able to enter your home for up to a month, while safe chemicals will allow you to be back in your home within a few days.
Question #4: Do you guarantee my satisfaction?
Serious and professional exterminators will guarantee customers satisfaction with their services. But, if asked this question clearly and concisely you will remind your exterminator how important this procedure is for you and your family.
Starting the conversation with this question will put you in the position of a well-rounded customer, and you will not be taken advantage of.
What to avoid when selecting an exterminator in NY?
The following are some points and situations that will have to light the red light in your head. If some of these occur, avoid those companies and individuals.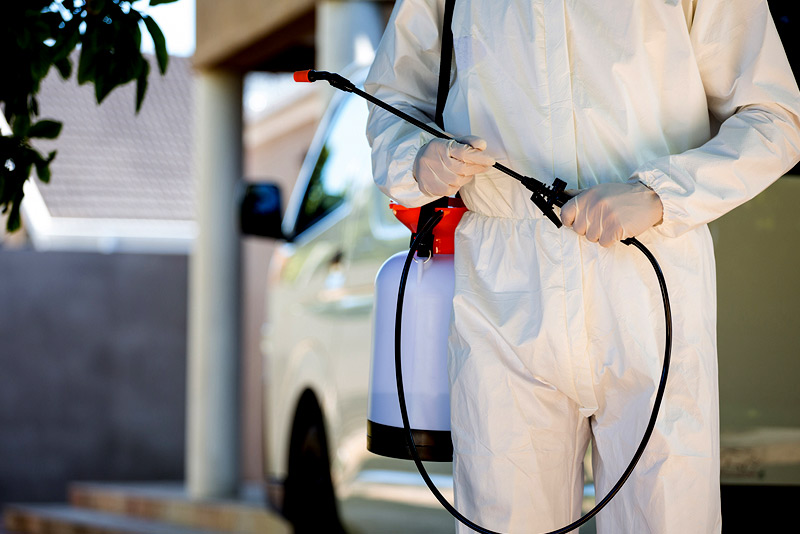 Companies that offer pest control services as a part of a package deal such as tree trimming and so;
If you are offered a special price if the treatment is done immediately;
Absence of a working telephone number;
Door-to-door sell services;
Quote a per-gallon price because termite control requires several gallons of diluted insecticide;
Claim to have a secret formula because all products used must be registered by the U.S. EPA and the States Departments of Agriculture;
Pressure for signing a contract immediately;
Because government agencies do not endorse any service company or specific pesticide product so never believe companies that claim to be endorsed by the States Departments of Agriculture, the U.S. EPA, or other government agency.
Compared to DIY methods, professional exterminators provide faster and more effective results. It will also save you money in the future by identifying pest problems early and eliminating them fast, preventing a costly infestation and/or damage in the future.
Yes, there are. Pest control companies professionals will focus on why the pests are present and look to alter the conditions that attracted them in the first place, while exterminators rely on pesticides to eliminate the unwanted pests using chemicals that could be toxic.