Cockroaches are attracted to food scraps or unsealed packages in your home, but the reality is they will feed on anything organic.
Keeping your home clean will go a long way to not attracting roaches, but once you have roaches in your home they are near impossible to get rid of by simply keeping it clean.
Cleaning your house is the first step, but you will need to use sprays, bait or traps to finish them off. Because your home is now clean, they are more likely to go for baits as there is no more food available.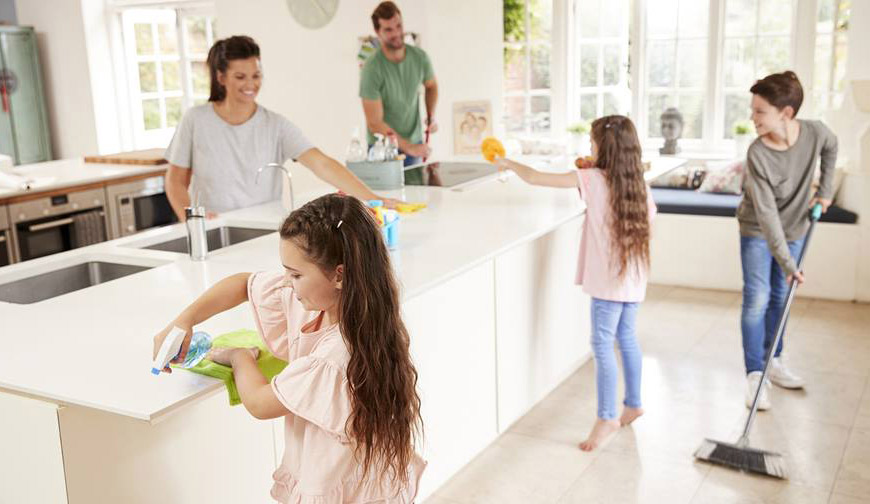 Cockroaches are one of the most common household pests and, usually, it's almost impossible to fully keep them away but it's a different story when it comes to full-on roach infestations.
To understand what gets rid of cockroaches, you must first learn what is causing cockroaches to gather in your house. Here are some common reasons for roaches infesting your home:
Dirty dishes left in the open
It is fairly common practice in all households to leave dishes soaking in the sink or leave them on countertops to deal with them later, but to roaches, this is a free buffet where they can feast on food.
Crumbs on different surfaces
An unavoidable mess that you can find anywhere is crumbs of food. Whether it's from snacks to pet treats, food crumbs are highly likely to attract roaches as well as other household pests.
The usual hang-out spot of roaches in a house? The garbage. As these pests usually scavenge for food, they often resort to 'food' that you throw away. The more garbage piles up in your house, the more roaches thrive.
Stagnant water in the open
For various reasons, lots of households tend to avoid stagnant water in vases or pots, even bird baths because it could attract mosquitoes, but this also goes for other pests like roaches.
Roaches not only scavenge for food, but they scavenge for food AND water. The more access they have to it, the more likely you are to roach infestation.
Other frequent hangout spaces for cockroaches in households are cardboard boxes and newspapers. They thrive in them, hide in them, and even worse is that they usually breed in them.
Some people overlook pet food as being a source of food for household pests but this is probably one of the most accessible food sources as it's usually just left on the floor and out in the open always.
Signs of a roach infestation at home
Cockroaches are one of the most common household pests, seeing 1 or 2 from time to time is fairly normal, if there's more than you can maybe call it a light infestation but 10 and higher, that's a full-on infestation.
To ensure that your home doesn't have a roach infestation, it is highly important to know what signs to look for. These are some common signs of roach infestations in households:
From looking like tiny black specks to mini pellets, large and growing amounts of roach feces are a clear indication of an infestation.
These can be found in hidden away dark and damp spaces as these are where as roaches typically take shelter.
Roach egg shells/capsules
These are the most common signs when it comes to signs of a roach infestation; they are unmistakable and have a distinct brown appearance.
The more of these you spot, the more likelihood of an infestation in your house.
There are some types of cockroaches that give out a certain distinctive smell, this smell gets more pungent the bigger the roach infestation is.
Moist areas in homes cause roaches to leave brown, weirdly shaped marks on horizontal surfaces and wall-to-floor junctions
How to avoid roach infestation in homes
Now you know what causes infestations and what to look for to know if you do have an infestation, but how do you avoid roach infestations? Here are a few tips to keep your house from unwanted roach visitors:
Putting away dirty dishes and cleaning up crumbs are top priorities when it comes to cleaning the house as these are the top things that attract roaches in households.
Followed by regularly taking out the garbage and changing out stagnant water.
Cleaning of kitchen appliances
Fun fact about roaches: they love grease. As grease commonly accumulates in kitchen appliances, it is very important to remember to clean these regularly.
Storing food in appropriate containers that roaches can't get past is one sure way to eliminate their food source.
Sealing away points of entry
Points of entry for roaches could be from tiny holes to little cracks in the window so it is very important to seal these right away once you notice them.
Get rid of unused/hoarded boxes and papers
As this is somewhere that roaches frequently go to live in and breed, it would prove beneficial to households to declutter these from time to time.
Essential oils are a great natural repellent for roaches. Mixing essential oils like peppermint or lemongrass with a bit of water and spraying it on surfaces that roach frequently could really help keep them away.
Getting rid of roaches with staple home items
Baking soda is a very common ingredient when it comes to DIY roach bait. Usually mixed with a handful of diced onion, once it is ingested by the roaches, it creates gasses in their stomachs that cause them to explode.
As efficient as using baking soda though, it comes with a negative which is the fact that you must track down the roaches and clean up the dead bodies after.
Another common home item that is used to get rid of roaches is Borax, a common laundry agent that when ingested by the roach, will dehydrate them and kill them almost immediately.
Although very efficient in killing the roaches, you would also have to track down the roaches like with baking soda to remove and clean up the carnage.
A very common household item that you can find in your fridge is a lemon.
You can use lemon juice or lemon oil and add it to your mop water before applying it on the floors, the scent would not kill roaches but it would repel them.
Getting rid of roaches: DIY vs Hiring an Exterminator
Pest control varies from one household to another. A big factor you should consider in choosing between DIY and an exterminator is the size of your infestation, safety, and convenience.
DIY solutions for roach infestation usually work but it also depends on the size of the infestation.
Light infestations could be done with the DIY solutions as they don't need to be done on a large scale, but some cases may be too severe to just use store-bought pesticide and DIY roach bait.
Although cost-efficient and convenient, DIY roach solutions may make a mess with all the roach combustion that happens and could prove to be a bit of a hassle to clean up.
Hiring an exterminator isn't usually the option that people opt for considering the hundreds of dollars that they could spend on a one-time pest control service.
However, something to consider is that hiring a professional for pest control could still save you money if you consider that exterminators attack the root of the problem which is something that DIY solutions are unable to do.