Mothballs are an effective repellant and remedy for keeping pests and acting as pesticide. However, it is not a one-size-fits-all solution.
You might have heard that mothballs can keep mice away or even be a solution to a rodent infestation; however, it is not true. Mothballs are not an effective way to deter or counter mice problems.
Many people speculate that using mothballs to keep rodents away started years ago when manufacturers claim mothballs repel mice to increase their profits. Others also believe it is due to the chemicals used to make mothballs.
Are mothballs effective against rodent infestation?
Mothballs are ineffective as rodent repellent. Aside from that, using them recklessly and in excessive amounts can be toxic to your home and family. When exposed, mothballs release gasses that are deadly to moths. These vapors can cause harm.
When you catch the scent of mothballs, this means that you are exposed to their fumes. Exposure to them can have a significant impact on your family's health, including your pets, all without getting rid of your mice problem.
There are other solutions to eliminate a mice infestation that uses a more effective method that does not include mothballs.
What will keep mice away?
Since we have established that mothballs are ineffective in keeping mice away, here are some better options you can consider:
1. Natural mouse repellents
Peppermint oil, pepper, cloves, and cayenne pepper
It has been told that mice are said to dislike the smell of these spices. To help repel and prevent the infestation of mice, you can lightly soak cotton balls in oils from these products and place them where you have noticed a mice infestation.
You can also opt to make cheesecloth sachets from mint, dry cayenne, and whole cloves. Once you make them, you can leave them in places where mice tend to hide, such as under beds, sofas, and corners.
If you want to shy away from products or natural options for keeping mice away, you can use traps that are humane enough to catch the mouse and keep them inside a box.
This way, the mouse can get in, but cannot get out anywhere outside the trap. This is a humane way, but you will need to release them at least more than 1 mile away from your home. It is suggested that you release them in a heavily wooded area.
You should also check the trap at least daily since the caught mice will die if it is left inside for more than a day or two. A dead mouse can have a very unpleasant smell to have in your home.
Remove possible "mice magnets"
Like other invasive animals, mice are attracted to food and nesting materials. To avoid attracting them into your home, make sure to keep food items, pet food, dry foods, and other similar products in metal containers or safe containers.
When it comes to nesting materials such as fabrics, rugs, and blankets, make sure that they are out of their reach so they will not find them. The same goes for paper, cardboard, and other lightweight plastics.
Mice can find it very easy to enter through very tiny holes and start their invasion from there. To prevent this from happening, you can do a regular checkup on your property and make sure there are no unwanted holes where they can squeeze their entry through.
If you spot some holes in your home, you can seal and block their entry by using some steel wool, caulk, or thick boards to keep them from entering.
For animals, the smell of ammonia is similar to those of some possible predators, making mice avoid it as much as possible.
To use ammonia as a mice repellant, you can recycle used bottle caps and fill them with ammonia, and leave them in places where mice may be tempted to enter. However, be cautious to keep them out of reach from children and pets.
As a standard household product, bleach can be an effective rodent repellent. Bleaches have a pungent smell that can be very unpleasant to rodents, so they can be very useful in keeping them away.
To use bleach, you can mix it with water, and spray it around your home, especially in places where they have nested.
Also a natural way of keeping mice out, vinegar can be an effective rodent repellent due to its pungent smell which rats dislike. Rodents cannot stand the sharp and stinging scent of this household item.
To use vinegar, you can soak some cotton balls in white vinegar or apple cider and leave them in areas where you think rodents will use them to enter your home. You can also use this to clean and remove their scent in the spaces where you think that they have been.
How to detect mice infestation?
Even if mice are such small creatures, the marks, and traces that they leave behind tend to be very apparent and easy to spot. To know whether your home has fallen a victim to their infestation, you can look for these signs:
1. Scratch or chew markings
Usually, rodents leave marks when they forcefully try to enter some spaces. Chew and scratch marks are telltale signs that they are present.
You can usually find these on floor trimmings, baseboards, and in cabinets.
2. Droppings and traces of food debris
Animals would normally defecate, so one way to take notice of whether you have some unwanted ones in your home is to check if any mouse droppings are laying around.
Mouse dropping appears small and oblong. They are commonly found in corridors, under sinks, behind cabinets, or in corners of the room.
To help locate them, you can bring a flashlight or move your furniture around.
Aside from mouse droppings, you can also watch out for food droppings or debris that they have left around.
If you have pets such as dogs or cats, they can often detect these unfriendlies when they are present in your home.
If your pet shows behavior that is often unusual such as barking, pawing, or scratching at weird places, it may indicate that they have noticed the presence of unwanted mice.
Most of the time, mice can be very active at night.
When they do, you might be able to catch them making sounds such as scratching against surfaces or squeaking.
What causes mice infestation?
There are several reasons why mice and rats creep around your home, and they can be very inconvenient and infectious. Aside from that, they can also carry with them harmful diseases that can harm your family's health.
To know whether you have a mice infestation in your home, you should be wary of what causes them.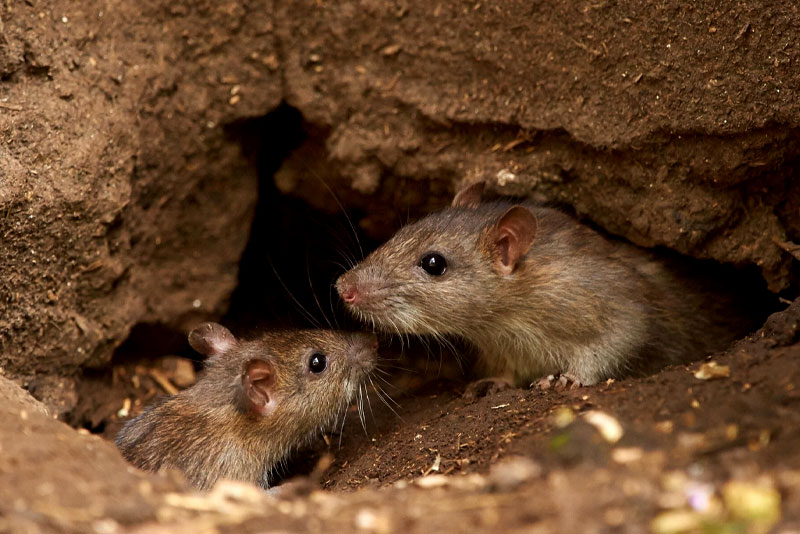 Like any other animals, rodents would naturally gravitate toward food. Since they are omnivores, they are not picky at what they eat and would eat just about any food or scraps. This means that both your pantry and trash bins can fall victim to them.
Each type of rodent prefers a different type of food but they are attracted to seeds, nuts, fruits, grains, and other sweet-smelling food that they can find. They would often find pet food as their food.
Even if your food is stored in a cabinet or a metal container, rodents will still gnaw their way to access them. Due to their keen sense of smell, your food items should still have another layer of protection because they will be very aggressive in accessing them.
The rodent family, especially rats and mice, are known for their capability to rapidly reproduce in large numbers within a short time. While this depends on the safety of their nest and the availability of food, their population can get out of control quickly.
They are attracted to cluttered areas since they make use of items such as paper, cloth, cardboard, cotton, insulation, and other materials that can be shredded, gnawed, or molded as nesting materials.
This is why you often see them nesting in walls, attics, basements, or in storage rooms and sheds where there are plenty of these kinds of materials. Once they mark these territories, their urine and feces may lead to health risks and allergic reactions.
Seasonal and weather patterns
Other factors that can cause mice infestation is the changing seasons and weather pattern in your area. While they can invade your home any time of the year, they are most especially more active during the winter season as they seek shelter and warmth.
Aside from homes, they can also be found in the engines of vehicles or huge appliances that can provide warmth. If your property is near wood piles or brushes, you might also be prone to be infested by them.