When mice or rats enter your house it is too late to think about what will work best as a trap bait. That's why we are here and that's why this article is written.
Forget cartoons where you catch mice with cheese. Mice are natural seed-eaters, so a very small amount of peanut butter will do a much better job. Also, nesting materials such as cotton, twine, yarn, or shredded paper will work well as mouse trap bait as they collect this material for making nests.
Let's catch mice:)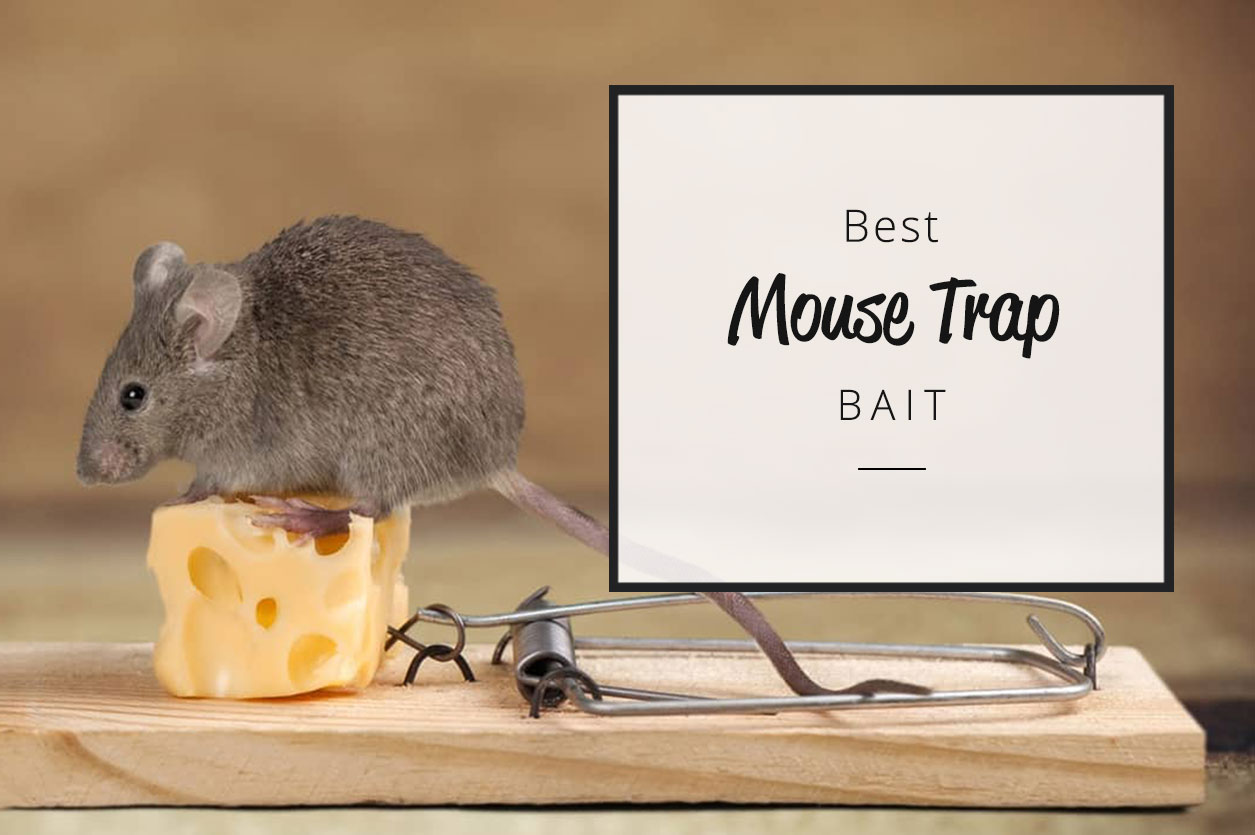 What bait/ food do mice like?
No matter what kind of trap you are setting, a snap trap or a live trap, baits play an important role in luring mice. Here are there main types of baits to use at home:
Food baits;
Nesting materials;
Specialty baits.
Keep on reading to find out more about these types of mouse trap bait.
Although for some people catching mice and preparing a trap is a nightmare, there are some well-known foods that sure you have in your home. These products will help you create a great mouse trap. Let's take a look at them.
Some of you may be surprised that cheese is last on our list but most kinds of cheese aren't effective in attracting mice. However, if you want to use cheese as bait use soft cheese such as camembert, brie, and blue cheese. These kinds of cheese have strong smells that effectively attract mice out of the hole.
The same as peanut butter and hazelnut spread, fruit jam is attractive to mice because they're sweet and sticky, which makes it an effective trap bait. Make sure to put the right amount of jam on the trap's far end so the mouse is forced to set off the device.
The drawback of the fruit jam as bait is that it will attract other pests like cockroaches and ants too so check the mousetrap regularly to be sure that the bait has not become a feast for other pests.
These rodents like eating pet food because it is rich in nutrients needed to survive inside your home. Although mice prefer wet food they will reach for dry pet food that's scattered around the house.
A few slices of deli meat such as bacon or sausages are worth it for a mouse to risk its life, raw or cooked it does not matter. When using this kind of trap bait check and replace it regularly because they spoil easily at room temperature.
No. 4 Gumdrops and marshmallows
Gumdrops and marshmallows are good choices for luring a mouse because of their high sugar content. Just a piece or two on the mouse trap will do the trick.
Mice love high-calorie food so the chocolate will be delightful for them. Another thing that attracts mice out of the shelter is the chocolate's strong smell. Since there are plenty of varieties of chocolate you will need to find out which one works best. According to the experience of homeowners that used chocolate as a trap bait, milk chocolate, and regular chocolate do well in baiting mice.
These rodents wouldn't miss the chance to eat seeds and nuts in the house. If decide to use seeds and nuts as trap bait, go for sunflower seeds, pumpkin seeds, and bird seeds.
As natural seed-eaters, the flavor of peanut butter will attract mice to the trap. When using peanut butter as bait don't use too much, about a pea-sized amount on the trap will attract the mice. Hazelnut spreads are also effective food bait when you are out of peanut butter at home.
There are situations when food baits won't work. Try something different. Try nesting materials. Female mice during cold months are in search of materials to build their nests. Below is the list of nesting materials that you can use as trap bait:
Cotton is at the top of our list because is one of the best nesting materials for mice luring. Tie some cotton balls on the trap's trigger to force the mouse to pull or gnaw on the bait and hope for successful hunting:)
All string-like materials such as yarn or twine, and even a piece of dental floss, will attract mice to your trap. Tie some of the string to the trap so the trigger sets off when the rodent tries to grab it.
Because mice can use fabric or cloth for their nests, these materials can also do the job. Drip some vanilla extract to the fabric to make it more enticing.
Cardboard or shredded paper
These are not nesting materials but are equally attractive to mice because they like to chew. By placing some shredded paper, cardboard, or even tissue paper on the trap, you will attract the mouse.
Besides the baits mentioned above that can be found in your home and which are enticing for mice, there are several specialty baits available in the market. Specialty baits are sometimes made with poison and are dangerous for people and other pets. Be sure to read and follow the manufacturer's instruction label before using it. Below is the table with the most popular specialty baits online:
Product
Price
Description
Tomcat Attractant Gel
From $7.98
Pre-mixed ready-to-use gel;

Comes in a no-drip bottle;

Easy application;

Attracts both mice and rats;

Works with any mechanical trap.
Victor Easy Set Mouse Trap
From $9.28
You don't need a bait since it comes pre-baited;

Wood-based wire snap trap;

Ideal for runaway trapping.
Provoke Professional Gel
From $11.94
Irresistible to mice;

Hypoallergenic and non-toxic;

Non-staining.
Why my mouse trap doesn't work - common mistakes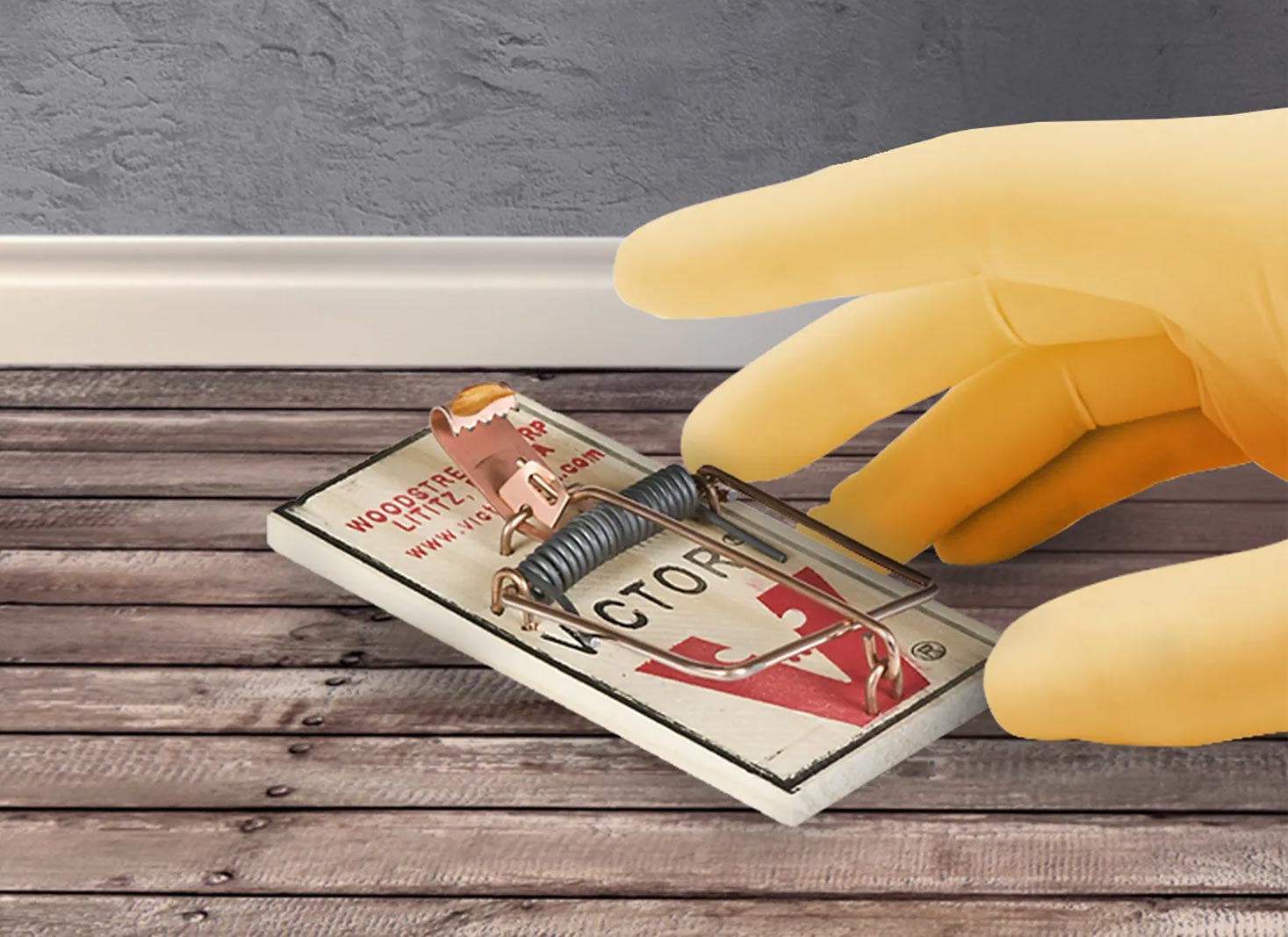 Below is the list of the most common mistakes that homeowners make with mouse traps. Also, I will give you a solution for every mistake
Mistake no. 1 - Ruining the bait
When you setting up the trap never touch the bait with bare hands because mice can sense human smell. Instead, use household gloves to protect the bait. A very important thing is to wear gloves to handle a trap after it has caught a mouse to protect yourself from diseases.
Mistake no. 2 - Too much bait
Less is more. Use only a tiny amount of bait. If you load up too much bait on the mouse trap, the mouse can steal some of it without activating the trap. A pea-sized amount of mouse trap is enough to attract the mice.
Mistake no. 3 - You are in a hurry
Don't rush and don't expect instant results. Make the mouse comfortable with the new object. This is important because mice are wary of new objects in the areas they frequent. Start with an unset mouse trap with bait on it in the first few days. When you notice that the bait is missing that means that the mouse is acclimated and you can set the trap.
Mistake no. 4 - Wrong location
It is normal to place the trap in the wrong place. Mice are scared of open areas so they are scurrying around the perimeter of the room, close to walls with their whiskers as navigators. According to this, pace mouse traps along the wall with the bait and the trigger end of the trap facing the wall.
Mistake no. 5 - Too few mice traps
Set as many traps as possible because mice reproduce fast and furiously. To eliminate the mice invasion quickly you will need more than a few traps. An effective strategy is to place a mouse trap every 2 to 3 feet along the wall, while for the highest traffic areas set mouse traps in pairs as close as an inch apart.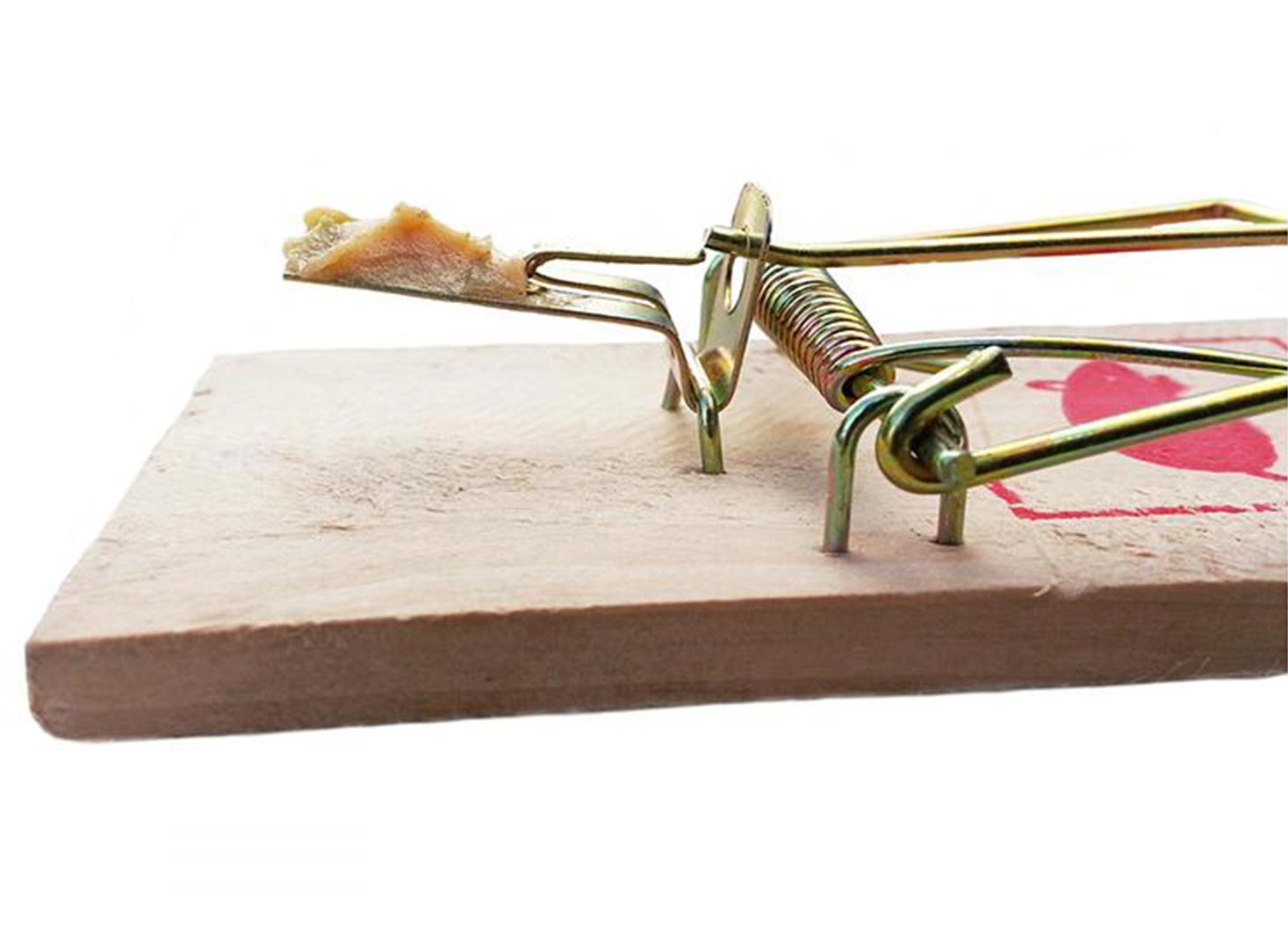 Bait isn't working - what to do?
There are several reasons why bait isn't working, and mousetrap isn't catching mice according to your plan. You can get a few more ideas about the natural way to get rid of mice at home here. I will give you a few tips below on how to ensure better performance of the trap next time.
Traps are only as good as the bait used. If there are no results for a few days it is time to change the bait. If food baits such as peanut butter and chocolate won't work, try some of the above-mentioned nesting materials.
Mice are known for their intelligence and might recognize the trap. If the snap trap has been used for a week without results, try switching to a live trap for example.
Try using traps with sensitive sensors
Snap traps may not be activated by smaller and lighter mice, while traps with sensitive sensors will work. Because the weight of the mouse may not be enough to set off the snap trap, electric mouse traps are a better choice for catching smaller and lighter mice, while working for bigger and heavier mice too.
Mouse's favorite places for hiding during the day are areas that are cool and dark, such as between walls, sofas, cupboards, pantries, old boxes, and similar places where they would not be disturbed.
Scents like peppermint oil, cinnamon, citronella, vinegar, ammonia, bleach, and mothballs will keep mice at distance.
One of the most effective ways to kill mice and rats is by using baking soda. It will produce gas in their belies. It finishes them painfully since they cannot pass through burping or farting.